To assist our members with their choice for our new President, we've asked both candidates to provide some more information in addition to that which is already available on our website under AGM.
Below you will find the additional information provided by Clive de Silva.
As previously advised to our members, the PE Board has requested that Ken Buchan, the acting Chair of the AGM this coming Saturday 18th April to pass a procedural motion to adjourn the AGM to a later date. He will do that as the only member of PE physically present if there are sufficient valid proxies to achieve a quorum (which will be 99 plus the acting Chair's vote). Should there not be enough proxies to achieve a quorum, the AGM will be adjourned by default. A proxy vote is a right for all members to vote on any resolutions at the PE AGM (including the appointment of President and Board Members) if they cannot physically attend the meeting.
All proxies cast will be valid for the date of the later adjourned AGM (to be decided and dependent on UK Government restrictions around the COVID-19 emergency) up to a point of 48 hours before the meeting is held. That means that if you have already submitted a proxy for this coming Saturday, then this will be held over and you will not to submit it again.
You can obtain a proxy form by visiting the AGM section of our website.
_________________________________________________________________________________________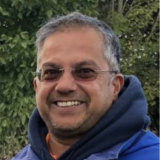 Interview with Clive de Silva regarding his application for President of Petanque England
It is vital to note that any actions and decisions must have the approval of the PE Board
Q1: Could you please give us a few details about your personal and professional backgrounds?
I was born in Bath and have lived in the Bath / Bristol area, my whole life. My career has been based around pressure situations and decision making. After finishing senior school, I followed my Dad's profession and went into engineering. I started work at Horstman Timers and Controls where I did my Electrical and Electronic apprenticeship. We built the electronic timers you see in your house, which control your heating and hot water. I completed my apprenticeship with a Higher National Diploma in Electrical and Electronic Engineering. I moved from there to work for Stothert & Pitt in Bath and was seconded to Rolls Royce, where I was based in Faslane (Scotland) working at the submarine base. Whilst working at the base, I also completed a National Diploma in Welding Technology and became a European Welding Technologist. When the contract finished, I moved into a sporting life full time. I have always been involved in competitive sport. I was scouted to play for Bristol Rovers Youth football team, before I broke my foot playing rugby for my school. Once recovered, I concentrated on tennis, playing county tennis for Avon at both junior and senior level. I reached the standard required to play on the European Seniors Tour (seniors tour starts at the age of 35) and achieved a Seniors ITF World Ranking of 169. I have played in events at Wimbledon, Queens Club and many locations around Europe. My highlights were winning the Copa Iberica Masters in Portugal, 2008 and playing in the World Championships in Majorca, 2009. During this time, I also coached tennis to a high standard and two players reached Junior Wimbledon. Unfortunately, I ripped my cruciate ligament and retired from the tennis circuit. Along with my sporting achievements I was also on the main organising team (comprising of one hundred people) for the European Scout Jamboree in 2005 and the World Scout Jamboree in 2007 which was attended by over 37,000 people and 155 countries. In 2010, I set up my own electrical company and took up petanque.
Q2: What makes a good President?
FAIRNESS, the ability to listen, the ability to lead, hardworking, a forward thinker and organised. These are just a few of the traits required. Whatever is done within the organisation it must be FAIR. Everyone should have an equal opportunity to achieve their goals and ambitions. The president needs to listen to the membership and make decisions with the PE board following their feedback. It might not always be easy, but the president must be strong enough to make fair but final decisions and ensure they are acted on. The president needs to ensure the subgroups are achieving their targets and if not take steps to support them to do so. Without hard work the role of the president cannot be achieved. Without forward thinking there is no future for our sport. As president, I would work hard with the membership to collate ideas and develop action plans to ensure, not only new but past initiatives are delivered. Good organisation skills and the ability to delegate tasks to appropriate subgroups are important.
Q3: How long have you been involved in the sport of petanque, what attracted you to it and what have you achieved playing the sport?
I started playing petanque in 2009 with a group of friends who met up each week for a catch up. Sitting in the pub garden of the Compton Inn near Bath the locals asked us to join in and I was immediately hooked. The teamwork, skills and tactics involved in the game was an instant attraction for me, coming from a sporting background.
My achievements include numerous regional titles within the Great Western Region and winning the National PE Over 50's Champion of Champions title in 2018. However, these are all topped by the MASSIVE honour of representing England in the Home Nations, three times.
I would like to, at this point, state that all my achievements would not have been possible without a superb support team and fantastic players. Thank you all.
Q4: What have you contributed personally to the organisation, administration and promotion of the sport? What are you most proud of?
I started organising the regional competitions within Great Western Region after a couple of years of playing. Using my skills in organising sporting competitions, I ensured events were organised uniformly and everyone knew the format and nature of each event. My goal was always to support members to play to the best of their ability and for them to be rewarded for the time and effort, they had put in to achieve their goals. The general playing level and confidence of the players improved across the region and the region went from strength to strength with increasing numbers of players entering club, regional and national events on a regular basis.
In 2019, I was asked by the board to take on the role of PE Veteran Lead. I have found this the most exciting and rewarding position to date. I have organised a two-year veteran ranking system, falling in line with the CEP European Veteran Triples, being held bi-annually. From these rankings the top twelve players represent PE Veterans in the Guernsey Open each year, where I manage the PE Veteran team. These players will also represent the veterans each year at Crystal Palace and LA British Open. On an international level the top players will represent England at the CEP European Veteran Triples and a newly established event the Veteran Home Nations, which I have organised.
In addition, I am working with the National Performance Panel to hold a new annual event to bring together all our national competition teams. This will be in the style of the Eurocup and will include teams from the Youth, Espoirs, Ladies, Men, Veterans and the current PE Club Champions.
My aim is always to promote and encourage people to play to the best of their ability and reward their hard work and success.
Q5: What would you say are the main strengths and weaknesses of Petanque England at present?
The main strength of Petanque England is the MEMBERS. Compared to a vast majority of the members, I have been playing for a relatively short period of time, but for the time I have been playing, I have seen the great attributes the members show daily. It starts at the grass root levels and goes all the way to the top. Local events run by the clubs, always have a superb team from the people who prepare the pistes, make the food and organise the event. Many people do this on a voluntary basis are always so kind and helpful. Members are always keen to give their support to other members daily and take time out of their routines to do this. On the playing front, I for one have been involved with players who have taken me under their wing and played and instructed me on the piste so that I can achieve my own goals. Players like these are such a credit to our organisation. There are many members who organise club, regional, national and international events for our membership and they do this for the love of the game. The members are a massive credit to themselves and the organisation.
The biggest weakness in my opinion is the communication within the organisation. I feel more could be done to include the membership's views before making final vital decisions. This could include issuing the next board meeting agenda so the membership can see what is going to be discussed and offer their views (Sensitive and personal issues will not be published). The board is always ultimately responsible, but it is always good to have a wider view provided by the membership. Another great way to communicate is through a monthly newsletter which will keep the members up-to date.
Q6: If elected, what would be the three most important priorities for you?
Communication with the membership
Promoting the game to encourage more people to play and to give a greater knowledge of the game to the general public
Obtaining Sponsorship for the whole organisation.
Q7: If there were one thing you would change in our sport, what would that be and how would you try to make that change happen?
As with many sports there is always an "us and them" scenario. Whether it is between the management and the membership or between the players themselves. I would try and encourage the whole membership to work together. Everyone is entitled to an opinion and should have the opportunity to express their opinions and listened to. If we all interact constructively then we will be a force on and off the piste. There must be trust and we all need to support each other and act professionally as one big TEAM.
Q8: We've been operating under tight financial conditions and suffered a couple of years of deficits, what do you think should be done to ensure that we can achieve balanced budgets? Do you have any ideas on cutting costs or increasing income?
The biggest proportion of the organisation's outgoings is through player participation in international events. This covers all events from the youth teams through to the veterans.
Each year the Board must set an overall budget for international team participation. This must be affordable to Petanque England. The budget will then be shared out to the various sections by the National Performance Panel (NPP), which incorporates all the section managers. These managers know which events will benefit their section members during the year. The NPP can then agree, who should go to which event, whilst staying within the overall allocated budget. In previous years, PE has been in a position, where all events were entered but may not have been appropriate for  the players at that time or for Petanque England. This can obviously prove very costly to the organisation. If the budget cannot afford to send all the teams, there are likely to be other affordable events available, with the purpose of gaining valuable competitive experience and strength. Sponsorship and self-funding are other options available for the players to ensure that they attend the championships.
Sponsorship is a big way of increasing income for the organisation. We need to develop a dedicated team to concentrate on this. However, for sponsorship to be successful, we all need to be positive, in what we do and say, especially on social media.
This is one of the first places a potential sponsor would look to find out the background of the organisation.
Another great way of raising funds is through fund raising pages such as "go fund me" (other funding pages are also available). When a section needs financial help to achieve one of its goals this is a great way not only to spread the word but also to advertise petanque. Other events seen on facebook etc such as 24hr boule could be used to raise money by using it as a sponsored event. There are many activities which can be used to raise funds.
Q9: Looking at our international representation at European and World level covering our Youth, Espoirs, Men, Women and Veterans, what are your views about the respective importance of these categories and should PE give equal financial support to them or operate some other criteria in deciding financial support?
This is a difficult one as everyone needs to have something to aim for in each category and each section has different requirements.
The youth section is needed to bring in the young players and develop them into steady and competent players, so they are adequately prepared for their progression into the Espoirs section.  The development of these players is essential to keep the future of our organisation alive. This section has the greatest number of coaches and organisers to ensure everything is controlled and delivered correctly. Funding should be provided to meet these demands.
The Espoirs is a very important section, as this is the age when players start to drift in different directions due to the various life choices, presented to them. We need to ensure they stay in the game and if we are going to produce a champion, this is the age group where a huge amount of knowledge and skill is learnt. This is where a player will be looking to attend international events if they want to progress further in the game. If we have players who can achieve, or have the potential to achieve greatness, then we should be supporting them to achieve their goals.
The Men's and Ladies sections is the pinnacle of the players ambitions: to play in the World championships. In every sport people grow up with the ambition of playing for their country at adult level. Petanque is no different.In my opinion, this is the most important section to support, as this is what the players have been working for and will often have sacrificed annual leave or self-funded to get to this point in their petanque career. Funding should be made available to support them so that they can participate in the European and World Championships, enhancing their competition experience at international level.
The veteran membership (55yrs of age and over) takes up more than 70% of our membership and the veteran section is a fantastic way of keeping players in the game and enables players to continue to compete at international level. They have a wealth of experience, which can be highly instructive to the rest of the membership in all areas. They can also be a great advert for the public, encouraging new players into the game. They can also influence younger members in realising the opportunities of the game.
It is important for each section to agree and present their planned annual goals to the board, so the board can set appropriate and realistic budgets for the benefit of Petanque England. Section managers should make decisions for the benefit of their section and players and this would be noted in their annual budget requests. The budget should be reviewed by the board annually and adjusted accordingly, depending on the needs and achievements of the section.
Q10: Do you have any views on the way in which we select our international representational teams?
Representing your country is one of the highest honours a player can achieve in their career. Many individuals and teams play all their lives in the hope they can achieve this. Petanque is played in various formats being singles, doubles and triples and it is very hard to be a master of all three. I would like to see a player being selected for their strengths whether it be singles, doubles or triples. This can be achieved by having three ranking categories and therefore, three ranking tables. By holding three National ranking competitions each year in each category Petanque England (PE) will know which players are top of each ranking list. PE can then pick the international teams accordingly. PE can hold one event each month between March and November on a rotating basis (i.e. Singles in March, June and September, Doubles in April, July and October and finally Triples in May, August and November) to achieve this. This would then mean that players can specialise in events which they want to be a part of and would mean that they would not be penalised by not playing in all the events.
Q11: What can PE do to improve communications with its regions and membership?
There are many things PE can do to improve this. For instance, more information can be sent out through social media and newsletters could be emailed (or posted if a member does not have access to a computer). We have the facilities to do this. I would like to see a newsletter produced each month to keep the membership informed on what is happening.
Q12: Do you think a covered boulodrome is a realistic possibility in our country? If so, how might we deliver that?
Wow!! That would be fantastic. I know things are happening already within the country to try and achieve this.  We should be thinking about forming a "project steering team" to start putting an action plan together. This plan would cover all aspects of the project from securing the finances through to the final build. An action plan is needed so we can keep the membership informed on how things are progressing.
Q13: The Inter-Regionals is our main annual showcase event. Do you have any views on what might be done to improve the weekend from a playing and social aspect?
In my opinion I think the weekend is a fantastic event for playing and socialising. I think the "tir de precision" is a great event to watch. However, I would consider, holding  it at a different event, as making players shoot late at night in the cold etc is not ideal especially as they and the supporters will have to get up early the next day. Maybe we could have a dedicated shooting tournament day, another time during the year. Socially, I have enjoyed every moment at the Inter-Regionals. I can't fault the current set up we have and would be pushed to even try.
Further Thoughts:
I wanted to finish up with a couple of ideas. Firstly, in all sports umpires and referees are paid. They spend a lot of time ensuring the game is played correctly and fairly. I feel they should be financially rewarded for their time and effort. Secondly, the individual clubs do a huge amount of work hosting our events, I feel they should receive a donation, directly to the petanque club. These ideas need to be discussed and agreed but I feel this can be achieved.
I hope this interview has given you an insight to my views and thoughts. If you would like to contact me then please email me at clivedesilva@btinternet.com. Take care and be safe.
Clive