Join our petanque community for just £10
Are you looking for a new, exciting way to stay active and meet new people?
Look no further than Pétanque.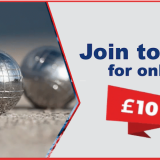 There's never been a better time to join the Pétanque community. For a limited time, Pétanque England is offering new members a special discounted rate of just £10 for their first year of 'Club Player' membership.
Joining the Pétanque England community comes with plenty of perks. For starters, you'll be fully insured, giving you peace of mind while playing. You'll also have access to free coaching, so whether you're new to the sport or looking to hone your techniques, there's always room to improve.
But the benefits don't stop there. As a Pétanque England member, you'll also receive advice and support from Regions and Pétanque clubs throughout the country. This means you'll be able to connect with like-minded individuals who share your passion for Pétanque, giving you the opportunity to make new friends and grow your personal network.
And, through this limited-time offer, you'll be helping to promote the sport of Pétanque throughout the UK.
£6 from every 'Club Player' fee goes directly to the promotion and marketing of the game, making a bigger impact on the community. After the first year, your membership will rise to £15, but you'll have the added benefits of participating in regional events and local leagues. Not only will you have the chance to put your skills to the test against other players, but you'll also get to experience the thrill of competition.
So, why wait? Join the Pétanque England community today and start enjoying all the benefits that come with being a member. And, at this special discounted rate, there's never been a better time to get involved.
Visit our Membership Page to find out more and join us today for just £10.