This year sees the 25th anniversary of the start of the Petanque Junior Skills Award, which was introduced under the auspices of the British Petanque Association and continues today with Petanque England. The awards scheme has developed hundreds of young players across England and has been supported from the very beginning by Pen-Y-Coed Petanque, who recognised the need to support and encourage young people in our sport.
Encouraging young Petanque players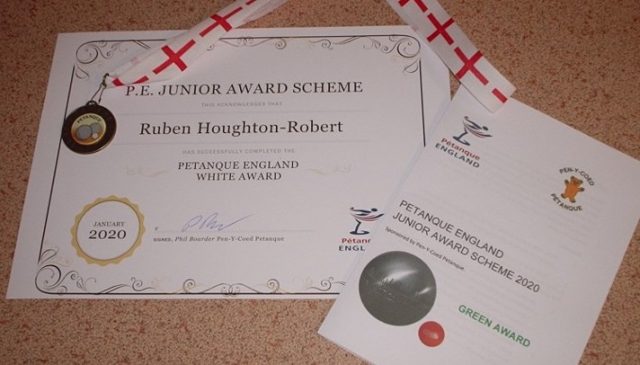 The award scheme, designed to encourage young players to learn how to play and develop their skills over several years, was initially developed by BPA National Youth Development Officer Dave Lavelle, in 1996. The scheme featured four levels of skill denoted by award colours.
Juniors would start with the basics of how to play and achieve the White award. Then they would progress to Green, Red and finally Blue levels. Red and Blue awards were focussed on improving skills and achieving high levels of consistency that would be required to perform both nationally and internationally. The levels had to be passed over an extended time period so the young players would improve as they gained experience – one early example is Northern Region player Luke Howard, who started the scheme in 1997 and was one of the first to achieve the highest-level Blue awards some five years later in 2002.
Eight junior players passed the White award in the first few months and that number had grown to over 70 by early 2000. Key people in the early days were Mike and Kath Knight (Southern) who presented 27 awards in 1998 alone, Brian Stote (Heart of England), Tony Moulding (East Midlands), and Chiltern Region.
Sponsorship
Pen-Y-Coed Petanque started their boule business in 1994 and have sponsored the Juniors Skills Awards scheme since 1997. Players passing each award level receive a certificate, medal and discount vouchers, with the amount of discount increasing in value as the skill-level increases. Medals are engraved with the year of pass, and a system of coloured ribbons reflects the skill level achieved. After some years, it became clear the steps between Green, Red and Blue awards were too large a skill-jump so 'Green Plus' and 'Red Plus' awards were added, with additional medals to support these.

Petanque England are grateful for Pen-Y-Coed's ongoing support of our young players. Each year they generously donate a new set of boule as top prize for the National Junior Shooting Championship, along with other prizes for runners-up. They have been doing this for over 15 years and have also donated numerous shields and cups for other Junior Events.
Past and present champions
Many junior players who started their petanque journey progressing through the awards scheme run by their region have gone on to play at National and International level as Juniors, Espoirs and Adults. There is no central record of awards presented, but a number of the well-known names in our sport will have started out this way, and among those juniors who are taking part in the scheme now there must surely be some England champions of the future.
PE's National Youth Academy now includes a National Development Programme that offers coaching and playing opportunities to improve Junior's standard of play and learn techniques, rules and tactics.
Thank you to all the dedicated Youth Development Officers, Junior Coaches and parents who have supported our young people through the awards scheme over the last 25 years and continue to do so..
Juniors are the future of our sport; this is something we recognised early in our journey and our aim is to support young players growing into the sport
Phil Boarder, Pen-Y-Coed Petanque
To find out more about the Junior Skills Award scheme and other opportunities for Juniors, contact your region's Junior Coach or Kath Knight (National Development Programme Lead).